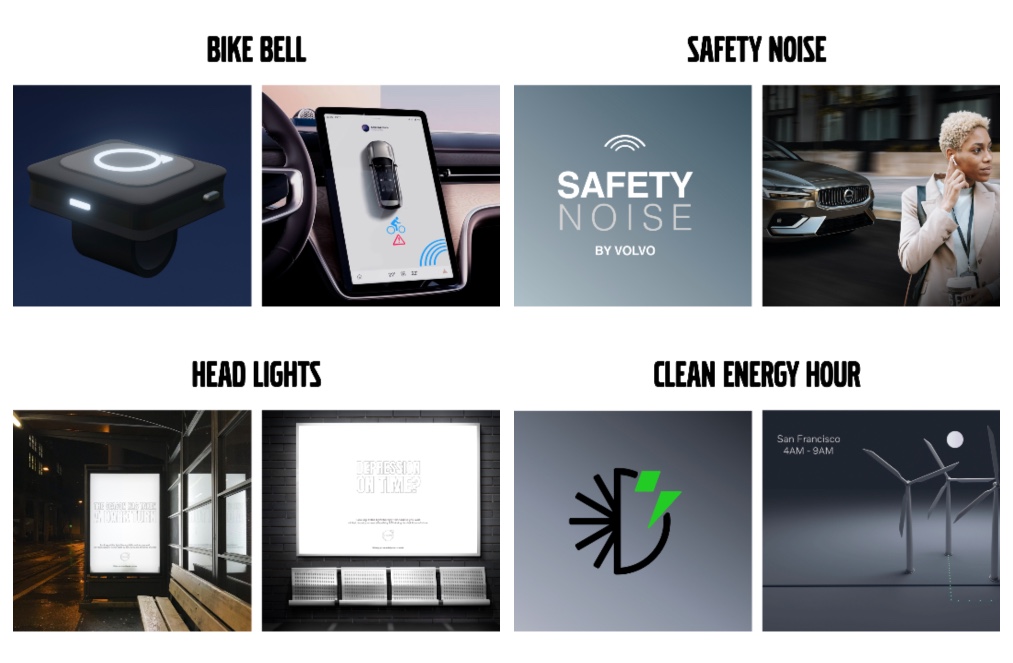 The 2023 AKQA Future Lions Prize is today awarded to four winning ideas. Celebrating its 18th year, Future Lions, in association with Cannes Lions International Festival of Creativity, illuminates the vision of young people and their imaginative application of cutting-edge technologies.
This year, AKQA, Volvo Cars and Forbes CMO Network teamed up to invite entrants to explore pioneering solutions that prioritise safety.
Trailblazers of innovation, the four winning ideas are: a car-alerting bike bell that fuses automotive and cycling safety; a car horn able to bypass the barriers of noise-cancelling headphones; Seasonal Affective Disorder light billboards that radiate vitality in dark times; and an app that removes obstacles, plotting the easiest path to sustainable car chargers.
For the first time, AKQA is awarding two Grand Prix winners. These go to the 'Bike Bell' and 'Safety Noise' ideas. In collaboration with Volvo and AKQA, the winning teams will bring their breakthrough ideas into reality. Gymshark is currently working alongside last year's Future Lions Grand Prix winning team to develop its accessible activewear solution, the 'Ten Week Tee'.
Recognising the importance of education and the dedication that both tutors and students put into their inventive projects, the institution with the most shortlisted entries is awarded the prestigious School of the Year trophy each year. Brother Creativity School, Argentina, is named School of the Year for achieving the most shortlisted entries and the Grand Prix winning entry, 'Safety Noise'.
2023 AKQA Future Lions winners:
A device that attaches to a bicycle and connects to the Volvo Cars app, alerting motorists when a cyclist is within reach aiming to prevent road accidents.
Team: Albert Bäckman, Emil Sörensen, Rebecka Rydgren, Sandra Alwan, Clara-Fanny Nordström Pagh
School: Berghs School of Communication, Sweden
A new feature built into car horns transmits a frequency that interrupts noise-cancelling headphones, encouraging greater awareness of the user's surroundings.
Team: Sara Cavallo Bec, Victoria Lara Battista, Hannia Yaret Rodriguez Torres
School: Brother and Miami Ad School, Buenos Aires, Argentina
By replacing the fluorescent lights used in public digital billboards with light therapy lamps, these screens can help commuters combat seasonal depression.
Team: Sebastian Benn
School: DMJX, Denmark (Danish School of Media and Journalism)
A native car navigation system that helps drivers find the nearest EV charging stations supplying renewable energy.
Team: Jaeyeon Hwang, Hong MyeongYun, Uijin Yang, Woohee Byun
School: Open Learn Academy South Korea consisting of the following schools: Kyonggi University, Dongseo University, Hongik University, Pennsylvania State University
The Future Lions 2023 exclusive seminar will take place live on the WPP Beach, Tuesday 20 June, 10am CEST, and live-streamed to view for free here.
Says Andreas Malm, head of brand and creative director at Volvo Cars: "We have found the innovative and creative approach to the For All Life brief from young people who took part truly inspirational. The ambition to make the world a safer place for all of us through the Volvo Cards brand by crafting new products and services is commendable. The winning ideas this year have proven how thoughtful solutions could create tangible developments for mental, physical, and planetary safety."
Says Seth Matlins, managing director of the Forbes CMO Network: "It's inspiring to see the winning entries using digital innovation, creativity, and culture to reimagine and reshape everyday living to be safer. To overcome the present challenges in the way of safety, the near future is set to be revolutionary for such creative use of technology."
Says Ajaz Ahmed, CEO and Founder of AKQA: "Our 2023 Future Lions winners demonstrate that innovation knows no bounds when young minds have the opportunity to champion the safety and wellbeing of the world. Thank you, Volvo and Forbes, for powering the platform that gives this new generation an opportunity to shine, and have their inspiring, enriching inventions realised."
Since its inception in 2005, AKQA Future Lions has become one of the most coveted honours for emerging talent in the design, creative and advertising industry. Future Lions has received entries from 85 countries and helped launch the careers of over 170 of today's most exceptional creatives. The full brief is available from www.futurelions.com.